A Viking age pendant (R-6634)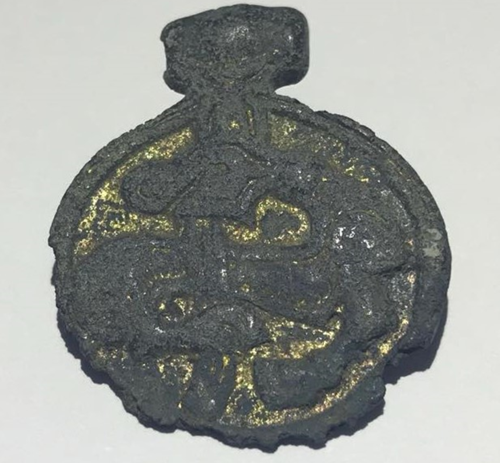 A Viking-age decorative pendant from 10th century . Those objects are relatively rare to find in Iceland but mostly found in pagan graves. At least seven Viking age pendants, similar to this one, have been found here. The copper-alloy gilded pendant has a Jellinge style animal on the front side. The Jellinge-style is characterized by long animals that are weaved together and double outlines.
The pendant was found in 2003 by Þórður Tómasson, the founder of Skógasafn, at an eroded site in Reynifellsalda, close to mt. Þríhyrningur, Rangárvallasýsla, South-Iceland.
Size: 25,5 x 30 x 9,5 mm. Suspension loop: 9,5 x ca. 2 mm.
Resources: The main source is Sarpur, cultural database. On artifact R-6634: http://www.sarpur.is/Leit.aspx?search=R-6634&filter=895&typeID=0
Kristján Eldjárn. (2000). Kuml og haugfé. Reykjavík. Mál og menning.
June, July, August: 09 - 18
September to May: 10 - 17