Buildings
Architecture
The turf farmhouses and other reconstructed buildings are good examples of south Icelandic architecture. The walls are mostly built of basaltic rocks: hyaloclastite and tholeiite; the buildings are roofed with turf on top of flat rocks. Most of the timber used for construction was driftwood. All the interior fittings are of 19th-century, and the oldest from 1838.
Museum building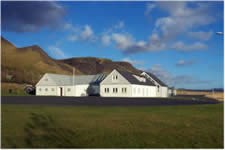 The north wing was built in 1954-55, and the southern in 1990-95. A glazed unit connecting the old and new buildings houses the museum foyer. The new building was designed by architects Stefán Örn Stefánsson and Grétar Markússon.
Turf farmhouse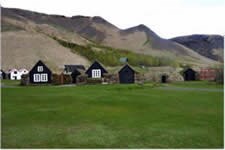 The parlour dates from 1896, bedroom from 1838, pantry from about 1850, kitchen from about 1880, baðstofa (communal room where the household slept, ate and worked) from 1895, storehouse from 1830, cattleshed from about 1880, smithy from about 1950.
Skógar Church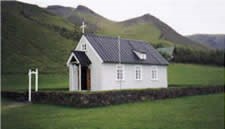 Skógar Church was consecrated in 1998. The exterior structure is new, while most of the interior fittings are from Kálfholt Church, built in 1879. The windows, which date from 1898, are from Gröf Church. One of the bells, which dates from about 1600, is from Höfðabrekka, the other from Ásar, Skaftártunga, from 1742. All the ecclesiastical goods date from the 17th and 18th centuries. The altarpiece is from Ásólfsskáli Church (1768), the candelabra from Steinar Church and Eyvindarhólar Church (16th century).
Holt
House from Holt in the Síða district. The first wooden house in the county of West Skaftafellssýsla, the house was built entirely of driftwood by District Commissioner Árni Gíslason in 1878. The wall panels in the west parlour are from the hospital ship St. Paul which ran aground off Meðalland in 1899. The house was lived in until 1974. In 1980 it was moved to Skógar Museum and reconstructed.
Schoolhouse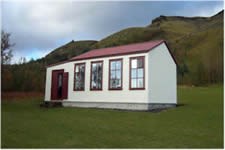 The schoolhouse was the elementary school at Litli-Hvammur, Mýrdalur, built in 1901. Reconstructed at Skógar Museum 1999-2000.
Skál farmhouse and storehouse from Gröf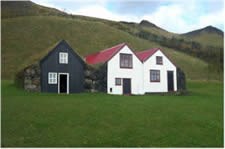 Farmhouse from Skál, Síða, built 1919-20, reconstructed at Skógar Museum 1989. Baðstofa (communal room where the household slept, ate and worked) built over the cattleshed to benefit from the warmth of the animals. Front section of farmhouse with kitchen and parlour. The house was lived in until 1970. The storehouse, from Gröf, Skaftártunga, dates from about 1870.
Hydro-electric plant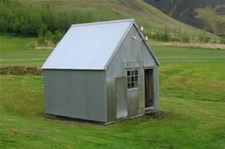 The HEP plant, from Breiðabólstaður, Síða, dates from 1929. It was installed at the museum by electrician Guðmundur Einarsson. 
June, July, August: 09 - 18
September to May: 10 - 17